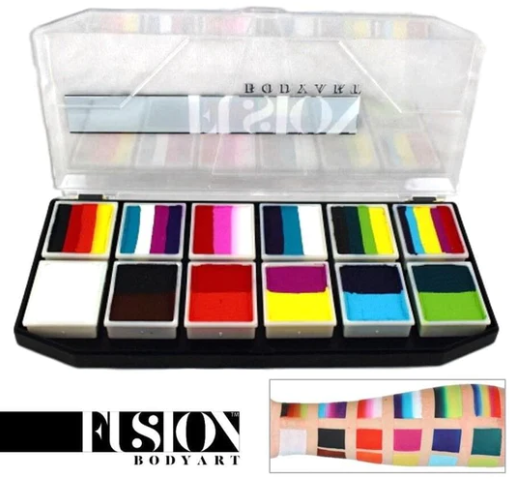 FAQ Important information
What paints do you use?
– I use TAG, Fusion and Global face paints.
These are high quality, professional cosmetic face paint products. These are designed for using them on the skin. Glitters are also safe, these are cosmetic glitters, safe for the skin.
Who can be painted?
– I can paint kids over 2 years old. Smaller children can have a small design on their cheek or hand. I am not able to paint anyone who has a contagious illness, or who has open sores or wounds. Alternatively I can offer small designs on hand.
Are face paints suitable for sensitive skin?
– I only use professional, cosmetic products which are specially designed to the most delicate skin, they are non-toxic. However, if a child has sensitive skin or any skin conditions, that may be aggravated by cosmetics, I do not recommend face painting for them. If you wish I can try a small test area on their arm.
Although it is extremely rare, I can not be held responsible for any allergic reaction if the parent/guardian has given their permission.
How to wash the paints off?
– These paints are water based. You can remove them with water or a good quality wet wipe. Most of the paints are easy to wash off, however some colours can be a little harder to remove. For these I recommend to use coconut oil/olive oil/make up remover. I recommend to clean the face before going to bed.
However these are safe paints, take extra care not to wash the paint into the eyes. If the paint goes into the eyes, immediately flush eyes with plenty of water. Please see the Safety Data Sheets: TAG Safety Data Sheet 2020,  Fusion Body Art – Safety Data Sheet,  Glitter powder Safety Data Sheet .
How do you clean your face painting gear?
– I rinse my brushes and sponges thoroughly between clients and sterilize them between parties. 
What happens if a party is cancelled?
– Please see Terms & Conditions below regarding cancellations.
What do I need to supply?
– You don't have to supply anything. I provide all my face painting gears, tables and chairs, balloons. I can paint outdoor or indoor. The only thing that I need is a covered place in case of rain, or shaded place in case of sunny, hot days.
Do you entertain with balloons? 
– Yes, I do balloon twisting too. These are simple and fast designs to avoid long waiting. I offer this entertainment for over 3-4 years old children. Little ones may bite the balloons which is not safe because of the risk of swallowing small parts. As kids will keep their balloons after the party too, it is the parent's responsibility to make sure children don't swallow any parts.
How many balloons can you make on a party?
– Depending on the design I can make about 15-20 balloons in half an hour. When you book for balloon twisting it means each child gets one balloon creation! There can be accidents and the balloons need fixing. Or a balloon pops out and the child may be crying, of course I will make another one. But the offer is always for 1 balloon/kid. Sometimes kids come back for asking for a second balloon… unfortunately if I start doing the second balloons, that means another round for everybody. It is not fair one kid has two balloons and others have just one. So please understand, 1 balloon for each child:) – Optionally you can book me for double time:)
Are you insured?
Yes, I have public liability insurance to the sum of $1,000,000.
Privacy of using photos on the website and Social media pages – important information
All photos on my website and my Facebook page has the permission to use from the parent or caregivers. We generally crop photos to highlight the painted design itself. We solely use the photos for marketing purposes. Please contact me if you want to remove a specific photo.
Data and Information security – We hold the provided information and data by the customers (in the contact section) securely and we will not give it to a third party. We may need this information to contact customers by phone or email if questions arise regarding the booking.
Terms & Conditions:
Minimum booking is 1 hour.

Your party/event is confirmed once the deposit, at least $30 is paid. (First paid, first booked.)

By booking you accept Terms&Conditions and the Cancellation policy.

Full payment required latest a week (7 days) before the event.

Travel cost may apply: 




| | |
| --- | --- |
| 0-10km | included |
| 10-20km |  $    20.00 |
| 20-30km |  $    30.00 |

Cancellation policy: If a booked party/event is cancelled $30 cancellation fee will apply. In case of last minute cancellation or modification (within 5 working days of the event date) the full amount of the quote is non refundable to cover the time loss.
(For booking in November/December, deposit is 50%, and it is considered as cancellation fee if the event is cancelled after booking. In case of last minute cancellation or modification (within 5 working days of the event date) the full amount of the quote is non refundable to cover the time loss.)
Above all, if you have any further question, please feel free to contact me!